Thanks for visiting our website. Below is some biographical information about me, our staff, and our CPA Firm. Make sure to check out our Blog Page also. It has lots of advice on tax planning, QuickBooks, and small business technology.
Tax Planning:
Tax Planning for high-income Business Owners

Tax Planning for high-income Professionals (Doctors, Lawyers, Architects, etc.)

Entity Selection to maximize tax savings

Business Structuring to maximize tax savings
QuickBooks Online:
QuickBooks Online Consulting

Apps for QuickBooks Online
Education:
B.S., Utah State University, 2000

MBA, Utah State University, 2002
Credentials:
Licensed CPA in Florida

Licensed CPA in Louisiana

Certified Tax Coach, AiCTC

QuickBooks Online Advanced ProAdvisor

QuickBooks Desktop ProAdvisor
Memberships:
FiCPA-Florida Institute of Certified Public Accountants

NATP-National Association of Tax Professionals

Key West Chamber of Commerce
About Me
I focus a lot on Continuous Improvement. I travel constantly to different Tax and QuickBooks seminars. I've traveled as far as San Diego for a tax planning seminar. On average, I go to a professional seminar on the mainland every other month. I watch professional webinars weekly and read professional literature daily. I am always trying to improve my craft and am never satisfied with my current level of accounting and tax knowledge.

I'm originally from Natchitoches, Louisiana. The movie Steel Magnolia was filmed there. I've never seen it, but I've been told that I can be seen and heard playing the drums in one of the scenes.

I joined the Army and went to boot camp at Fort Knox a week after I turned 17. I was a junior in high school. I then came back to finish my senior year. I served for about three years as a paratrooper in the 82nd Airborne Division. I loved it. After that, I spent two years teaching on the Navajo Reservation. I no longer remember any Navajo.

Utah State University? Why did I go to school so far away? I was offered a scholarship.

What are my work hobbies? Technology. We use technology to run a paperless office. We use apps to accomplish more with fewer people. Most of the software we use is in the cloud. We're very high-tech and have effective cybersecurity policies in place.

What are my personal hobbies? I like to Spearfish, rod-and-reel fish, study military history, and watch LSU football.
There are a few things that make us different; not better, just different. Here are some of them:
Pricing

Limited Services

Client Education

Technology

Cybersecurity
We charge a fixed price for our services, not an hourly rate, so you don't have to worry about a meter running endlessly when we meet. For accounting clients, we usually offer 5 different service packages, with their own fixed monthly price. You get to choose the package that you feel gives you the greatest value for the price.
We are not a full-service accounting firm. We don't do Valuations, Financial Audits or Reviews, Risk Management, IT Audits, Forensic Litigation, Elder Care, Securities Services, Investment Advise, . . . . . and, well, you get the picture. 
We purposely limit our services to Accounting and Tax Services. Focusing on just two areas helps us better perfect our craft.
Educating Clients and our mini-MBA Course
Because we don't bill by the hour (our price is fixed, regardless of the time we spend with you) clients often like to spend extra time with us asking questions about their finances. We love explaining financial topics to our clients!
One of the service packages we offer contains a series of instruction on how to perform basic accounting tasks in QuickBooks. We then teach you how to read and analyze your financial statements. We call this our mini-MBA Course. It's a hybrid of us doing your accounting while you watch and learn, and then you do it while we monitor how you're doing. We also teach you how to read your financial statements. After a year, you should be able to handle most of your own accounting and be able to analyze your financial statements in a meaningful way that helps you manage your business. 
Why is analyzing your financial statements important? You may be an expert in your field, but if you don't have accurate financial statements, and know how to analyze them, you're operating somewhat blindly. Accurate financial statements are the single most important tool you have to manage your business and knowing how to properly analyze them is paramount to sustained success.
We are very technology-driven and run a paperless office. We use a lot of cutting-edge apps and software in our firm. This allows us to do more with less people. 
We offer many apps to our clients for free or at a discounted price. We have apps for keeping track of receipts, cloud storage, employee debit cards, financial analysis, employee time-tracking, and more. Most of the apps we offer integrate seamlessly with QuickBooks Online, Microsoft OneDrive, DropBox, Google Drive, and Evernote.
We have invested a lot into securing our client's information from hackers and other 3rd Parties. We contracted with a leading Cybersecurity Firm to evaluate our security. When they came back with recommended changes to our IT Infrastructure we implemented them immediately. We spared no expense in this. We also have an on-going contract with a Cybersecurity Firm that regularly monitors for breaches and ensures we're using best practices in securing our customer's information. While no one can guarantee your information is 100% safe, we've taken every possible step to keep it safe.
UTAH STATE UNIVERSITY
MASTER OF BUSINESS ADMINISTRATION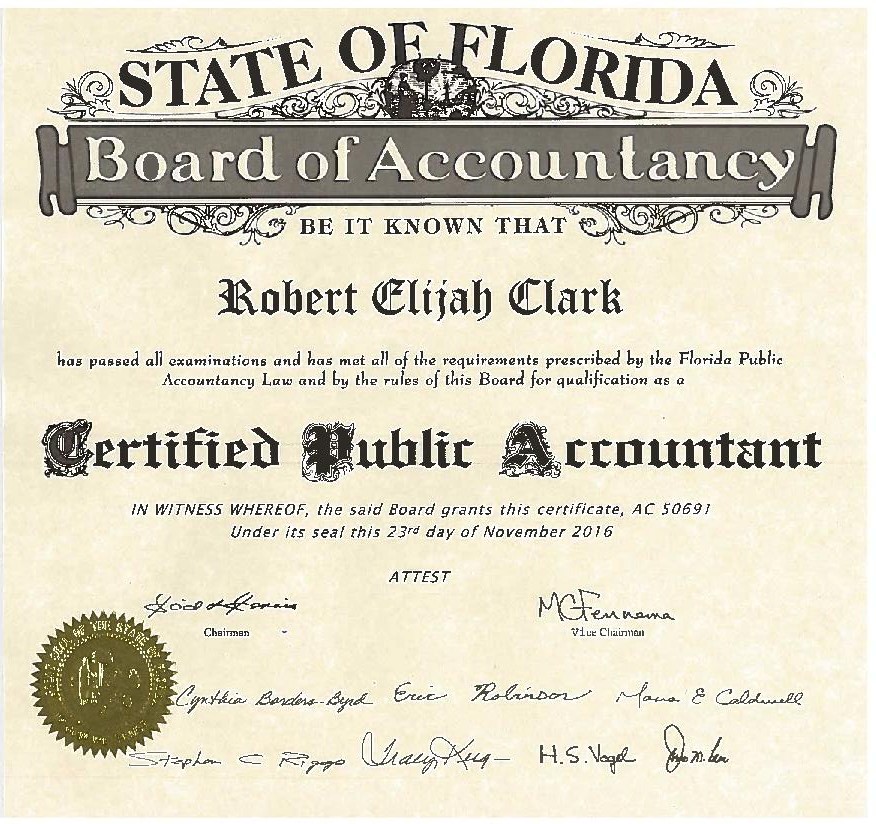 FLORIDA CPA LICENSE
LOUISIANA CPA LICENSE